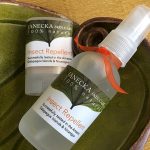 FEATURES
Many consumers want to know if the products they want to buy are effective and all natural. Repellents are included I this roster of products. One of the most potent repellents you can get our hands on is Janecka Insect Repellent. Tested successfully in the Hawaiian Islands, Amazon Jungle, Bahamas, Galapagos Islands, Nicaragua, and the Caribbean, Janecka is believed to be a potent blend of all a special blend of essential oils that irritate biting insects. If you want something organic and safe, perhaps Janecka Insect Repellent is the one you've been waiting for.
DESCRIPTION
Modern consumers are tired of encountering toxins that harm living organisms and the surrounding environment. That is why artisans are creating products that do not have such detrimental chemicals. Janecka Skin Care Products has come up with Janecka Insect Repellent, which is handcrafted and made with all-natural ingredients. Since 2004, this company has been registered with the US FDA and they are equipped with utensils and equipment for mixing and preparing their repellent formula.
The manufacturer claims that Janecka Insect Repellent is safe and cruelty-free because the manufacturer did not test it on animals. They are directly tested on friends and families. Many studies show that humans absorb more toxins through the food that we ingest. As you know, your skin is your largest organ. Everyone should be careful in choosing the right products to apply on their skin because toxic chemicals could be highly absorbed through the skin and enter the bloodstream.
Skin care products like Janecka Insect Repellent should be as clean as the food that you eat. Many illnesses develop though the synthetic chemicals that enter the body. No one wants diseases. To free yourself from this fear, resort to using products like Janecka Insect Repellent. Users say that it is easy to use. Just apply it on exposed skin, allow the repellent to seep into your skin, and let all the essential oils enter your body all day. It can also be applied to the bottom of your feet a few days before exposing yourself to biting insects. This way, even the most sensitive skin can be protected from the inside.
BENEFITS
About the Product:
No: DEET, parabens, and other toxic ingredients
It is not tested on animals
It is easy to apply
It is convenient to carry with its thirty-five-ounce solid repellent travel stick and its two-ounce spray bottle packaging
It is made of a natural blend of essential oils
It has no carcinogenic ingredients
It has no preservatives or artificial ingredients
INGREDIENTS
Silk powder (moisturizes the skin), beeswax (organic emulsifier), grapefruit seed extract (natural, organic preservative), coconut oil (base)
*** Certified organic ingredients
FAKESPOT GRADE
There are no Fakespot reviews for this product yet.
Pro's
DEET free
Safe for use on children under 3 years of age
Combines several trusted active ingredients
Con's
Cannot be used on children under 6 months of age
Much lower levels of actives compared to other brands
Low effective rate based on many reviews
Conclusion
Janecka Skin Care Products created Janecka Insect Repellent as an answer to the need for organic yet effective insect repellents. It is a product that has never been tested on animals. It is safe and convenient to use. The manufacturer claims that it is non-carcinogenic. Users are happy about it because it Janecka doesn't have preservatives or any other synthetic substances. It seems to be a promising repellent, but it doesn't have a period of effectiveness and a credible Fakespot review to support its potency. As a smart consumer, I prefer to use a repellent that is reliable and spoken for. I give it a fair 3.0 stars. Perhaps you could give it a try, so that you can see if this is the repellent for oyur next outdoor adventure.