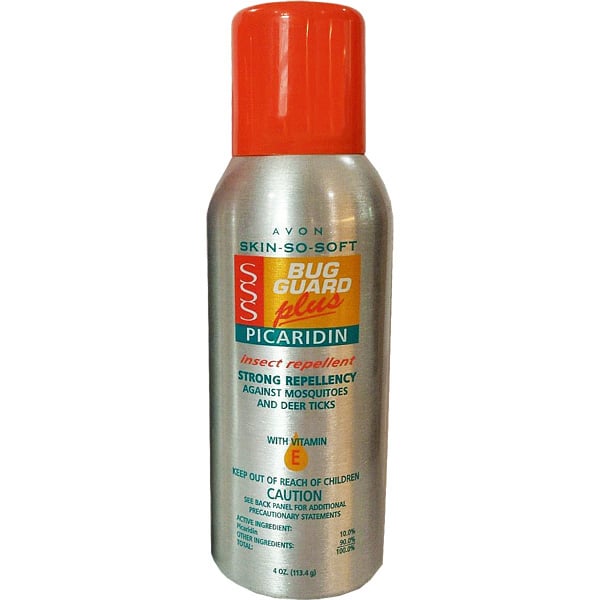 FEATURES
This review of Avon's Skin So Soft Bug Guard Plus Picaridin comes by way of users like you! With an average rating of 4.4 stars online, this repellent is a staple for folks who need protection, but prefer to avoid DEET based bug sprays. If you spend any time at all researching the best repellent for your lifestyle and environment, Avon products always appear as one of the better performing repellents. Thinking back, I remember the days before Avon actually had an official 'repellent' but many users found that their standard skin-so-soft line gave pretty good protection against flying mosquitoes and other insects. Fast forward to 2016 and the company now offers a pretty solid line of repellents that have a great reputation for guarding against bugs.
DESCRIPTION
Strong and dependable repellency against mosquitoes, deer ticks, gnats, no-seeums, sand flies and biting midges. 4 oz. net wt.
Picaridin – insect repellent (alternative to DEET). It has a low odor, with a light, clean feel.
BENEFITS
• Repels a broad spectrum of biting insects (mosquitoes, deer ticks, gnats, no-seeums, sand flies and biting midges)
• Repels mosquitoes that may transmit West Nile Virus
• Repels deer ticks that may transmit Lyme Disease
• Needs to be washed off when coming in from the outdoors
• Deet-free
• Oil-free
• Dermatologist tested
INGREDIENTS
Active Ingredient:
Picaridin 10.0%
Other Ingredients:
90.0%
FAKESPOT GRADE
A – Over 90% high quality reviews
Pro's
Non-greasy formula
A great alternative to DEET
Provides good protection
Con's
Feels odd on skin for some users
Strong chemical odor
Trouble repelling some insects
Conclusion
Overall, this product provides a decent amount of protection compared to some of the lower grade repellents I reviewed. So, it's not going to be something you can count on to scare away all bugs, all the time. But, it does have a very good reputation and a great following of loyal buyers who are content with the protection provided.